USA Women Cruise To Victory In World Cup Opener, Winning 13-0 Over Thailand
Team USA got off to a tremendous start as they opened their 2019 World Cup with a 13-0 win over Thailand in Reims, France. It was the most ever goals scored by Team USA in a single World Cup game in their rich history. Alex Morgan had a ridiculous match, scoring five goals. Two other USA players - Rose Lavelle, and Samantha Mewis - each scored a brace in a game where USA overwhelmed Thailand in every phase of the match. Needless to say, Team USA proved they were very ready for this tournament, punishing Thailand over 90 dominant minutes of football.
It was the first of three group-stage matches for both teams in Group F. Group F is the 6th and final Group-of-four teams to begin play in the month long tournament which started last Friday.
It didn't take long for Team USA to get going as they jumped out to 76% possession in the opening ten minutes, barely giving Thailand any meaningful touches on the ball. That one-sided beginning would set the tone for the entire match. In the 13' Alex Morgan got on the end of a Kelley O'Hara cross and buried the header for the early 1-0 lead. The goal ended a stretch of 302 minutes without a score for Morgan, her third-longest international goalless drought since February 2015. She would be far from finished.
Rose Lavelle would follow that up just seven minutes later with a goal of her own in the 20' with a left footed strike from just outside the Thailand box to make it 2-0. The goal was Lavelle's 8th in just her 28th international match.
Lindsey Horan would make it 3-0 in the 32' off the rebound of a Tobin Heath free kick just outside of the penalty area, and the rout was on well before the first half whistle.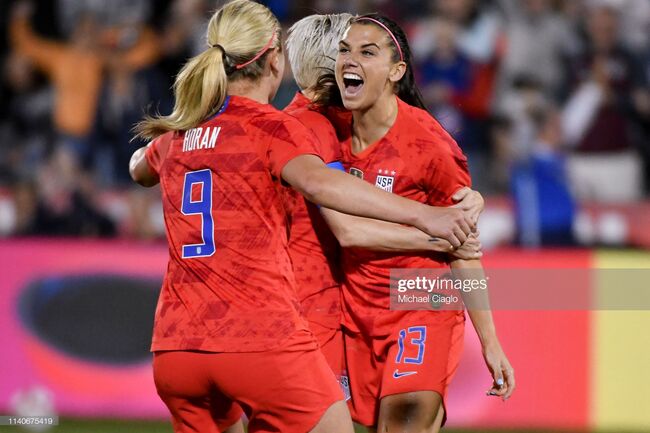 Team USA did not take their foot off the gas in the second half. Showing their ruthlessness and their unwillingness to play down to a lesser opponent, they would add four more goals in a span of just six minutes to end any small hope of a Thailand comeback. In the 50' Samantha Mewis made it 4-0 when she took one touch and hit a shot that deflected in off a Thailand defender and into the back of the net.
In the 53' Alex Morgan would make it a brace with an easy tap-in goal off of another USA set piece deep in Thailand territory for a 5-0 lead.
One minute later Mewis would also get a brace with her second goal in under five minutes. Lavelle's shot took a deflection and landed right at Mewis' feet for another point blank goal and a 6-0 lead for the red, white, and blue.
Lavelle would add a brace of her own in the 56' as the USA poured it on against a clearly inferior opponent. That goal made it 7-0.
Alex Morgan would make it a hat trick and an 8-0 game in the 74'.
Megan Rapinoe would join the fun in the 79' on a two on one breakaway
Alex Morgan would net her fourth goal two minutes later to make it 10-0 in the 81'.
In the 85' Mallory Pugh would add a goal in her World Cup debut. The 21 year old USA star made it 11-0 at that point.
Morgan would add a fifth in the 87' and a 12-0 lead.
World Cup legend Carli Lloyd would get her turn next, finally rounding out the scoring barrage in added time. Lloyd put the finishing touch on a dominant USA performance, winning 13-0. Obviously, there will be tougher challenges ahead for the defending World Cup Champions, but they looked every bit the part of a team on course to win back to back titles on this day.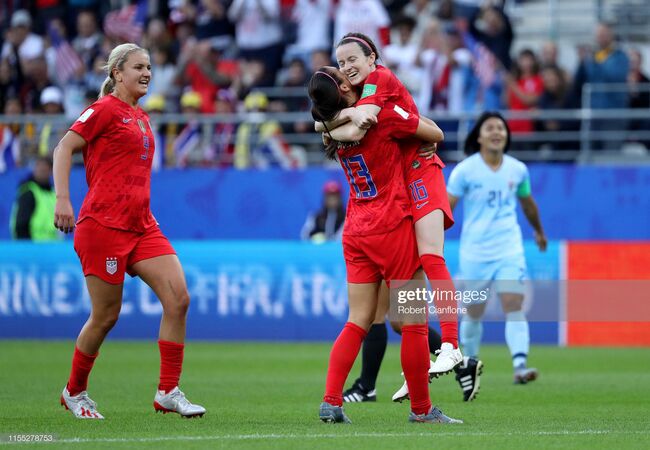 Next up for team USA is a match against Chile in Paris, France on Sunday at 11am Central Time. Local fans can join the San Antonio American Outlaws for watch parties of all USWNT World Cup games at Freetail Brewing located on 1604 and NW Military.