Spurs fall to Utah in Salt Lake Summer League finale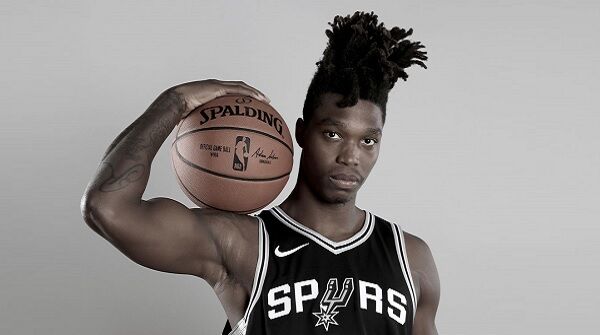 Lonnie Walker IV scored 14 of his 19 points in the fourth quarter but it wasn't enough as the Spurs dropped their Salt Lake Summer League finale 81-84 to the Utah Jazz. San Antonio finished 2-1 in it it's three games played in Salt Lake.
Utah took control early and led by as many as 17 points in the first half before taking a 42-29 lead into halftime. The Spurs battled back in the second half using a 15-4 run to open up the third quarter to cut the deficit to four, 44-48. Utah stretched its lead back to 13 early in the final period before the Silver and Black closed the gap to two, 81-83, with 12.7 seconds remaining in the game. After the Jazz split a pair of free throw, San Antonio had a final chance to tie to the game but a Walker IV three-pointer at the buzzer didn't fall and the Jazz held on for the win.
Walker IV added 8 rebounds to his 19 points in 29 minutes of action while Drew Eubanks posted 15 points and 7 boards in 24 minutes. Quinndary Weatherspoon chipped in with 13 points, 2 rebounds and 2 assists in 26 minutes. Thomas Robinson recorded 12 points and a team-high 9 rebounds in 16 minutes off the bench.
The Jazz had five players score in double figures led by Miye Oni with 17 points. Willie Reed posted a double-double with 14 points and 16 rebounds.
NEXT UP
The Spurs will take on the Orlando Magic in their first game of the MGM Resorts Summer League in Las Vegas on Friday, July 5 at 10 p.m. CDT. The game can be viewed on NBA TV and streamed on WatchESPN.
POSTGAME QUOTES
Blake Ahearn – Head Coach
On his team battling back
"It was a slow first three or four minutes and that was the game. It was a little sluggish, we had guys (playing) three games in three days that played big minutes. They (the Jazz) did too. They knocked a few shots in early and got the crowd going. We could have easily packed it in and get excited about going to Vegas, but they battled and played hard. They did some good things and credit to them. Over these past three games, I think they did a lot of really good things."
On Lonnie Walker IV improving his game
"He's done a great job in all areas defensively and offensively. I think he's getting comfortable with his shot. His mid-range game is so good, but now developing that three-point shot is getting better and better. Once that becomes consistent and as athletic as he is, it's a problem to guard."
Lonnie Walker IV – Guard (19 points, 8 rebounds, 1 steal)
On if he's improving his outside shot
"That's what I've been focusing on. I'm a rhythm shooter, it's all about finding my jump shot and being comfortable in my own skin. I'm continuing to get better. Once I see one go in, I'm going to keep on trying to shoot and continuing to see if the next one goes in. I'm trying to get my players involved as well. I'm definitely comfortable with my jump shot."
On if he feels good with his shot selections
"I had a couple forced jump shots today and I had a couple bad shots, but that's just part of the game. (I'm learning from) knowing when I take bad shots and knowing when to take good shot and that's Spurs basketball."
Photo: Getty Images

SPURSWATCH
For more than 35 years, 1200 WOAI has been the proud flagship of the San Antonio Spurs. From before the opening tip off with the Spurs Warm-Up Show, to each play during the game, to well after the final buzzer with Spurs React, you can depend on...
Read more